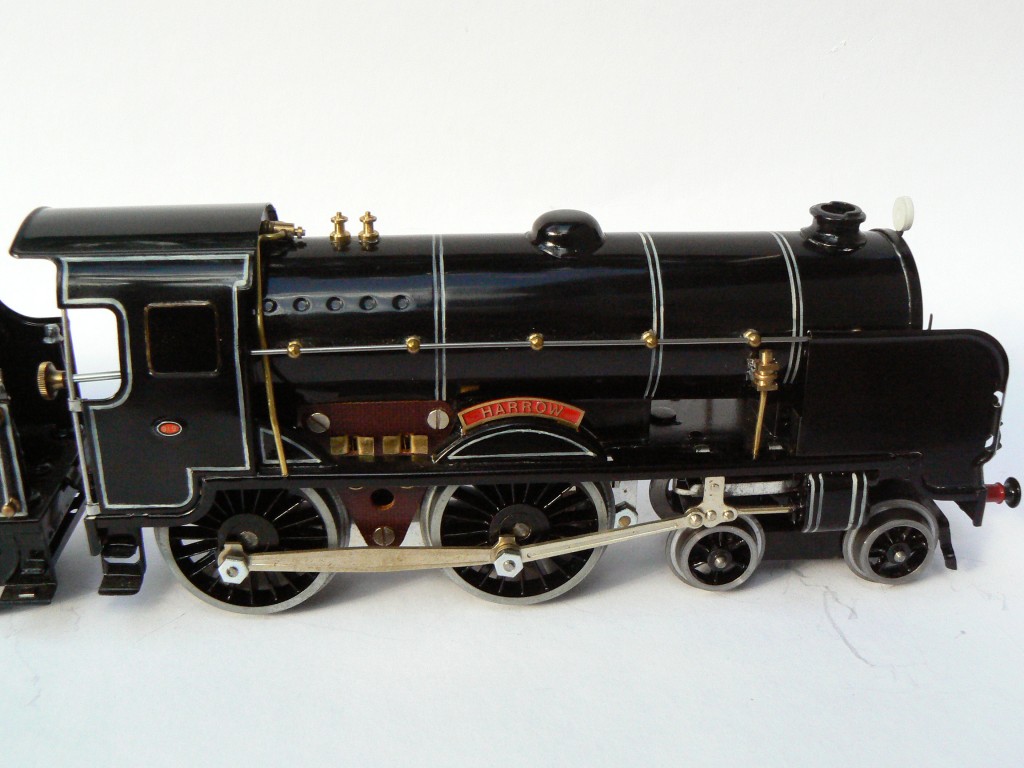 The Eton is, or was, a near perfect (Ahem- even though I say so myself) replica of Hornby's O gauge No. 4 engine from the late 1930's. It arose because around 1995 a friend of mine, Alan Middleton, had made a huge effort developing his own press tooling to make replacement Bramham Moor and Yorkshire footplates, and a few other parts, which he was selling in the HRCA spares directory. The late great Frank Sheeran then stepped in suggesting to us that since we had the really difficult bits in the bag so to speak, why couldn't a young Turk like me finish the job and we get together to build the Eton?
So I decided to take it on (I really wanted an Eton). Frank lent me his Eton to measure, I reverse engineered all the remaining sheetmetal and drew flat patterns in AUTOCAD (which back in those days was quite the thing), and also made cutting path programs for machining the embossing dies. The tricky parts were the cab and tender embossings. This was when I started to really learn a lot about tool design and toolmaking (in particular how to do it on the cheap), and actually practicing it for myself had a lot of benefits for me in my day job as an aerospace engineer. Alan took on the job of making deep drawing and punching dies to make the tinplate domes.
I'm naturally very proud of how it came out but a lot of that was due to the 20V Mechs that Alan also made.
These locos were sold as "Kits" to HRCA members. In reality it quickly became obvious that to make the kits reasonably foolproof they needed to be supplied as complete loco housings and sets of associated fittings entirely preassembled up to the point of painting and fitting handrail knobs etc. They also included a set of varnish fix transfers including Fitzroy maker's trademarks from Wessex Transfers in Tasmania. In reality I have no idea how many completed locos actually ended up sporting them, but the transfers are terrific and I have commisioned special lining and trademark transfers from Wessex ever since.